Bagh Jannat
Technical Details
Location : Isfahan, Iran
Area : 16.400 M2
Status : Concept
Function : Residential
Principal Architect : Omid Shafieie
Project team : Shirin Haddadi, Ali Mahmoudi asl, Milad Salehi vasegh, Babak Behnava ,Farhad Minae, Babak Moradi. Hamid Danesh, Shima moulavi
Bagh Jannat residential complex with an area of 16,500 square meters, is designed on 6 floors and is located in Isfahan. Due to its proximity to the Siosepol Historical Bridge and the Isfahan Fine Arts Conservatory building, this project plays an important role in maintaining the structural continuity of the area. Therefore, by using the leading models of architecture in the city and in spatial correspondence with the building of the Academy of Fine Arts, it offers a combination of traditional and modern architecture.
The volume of the project is such that in addition to meeting the spatial needs and paying attention to the physical program, by creating interconnected open spaces maximizes its interaction with the urban area located in it. This makes it possible to successfully illuminate the various parts of the project with the diverse organization of open, semi-open and closed spaces that have long played an important role in the structure of Iranian homes. Also, by using the porch pattern to increase the integrity of the volume and the central courtyard pattern in height, various qualities have been added to space.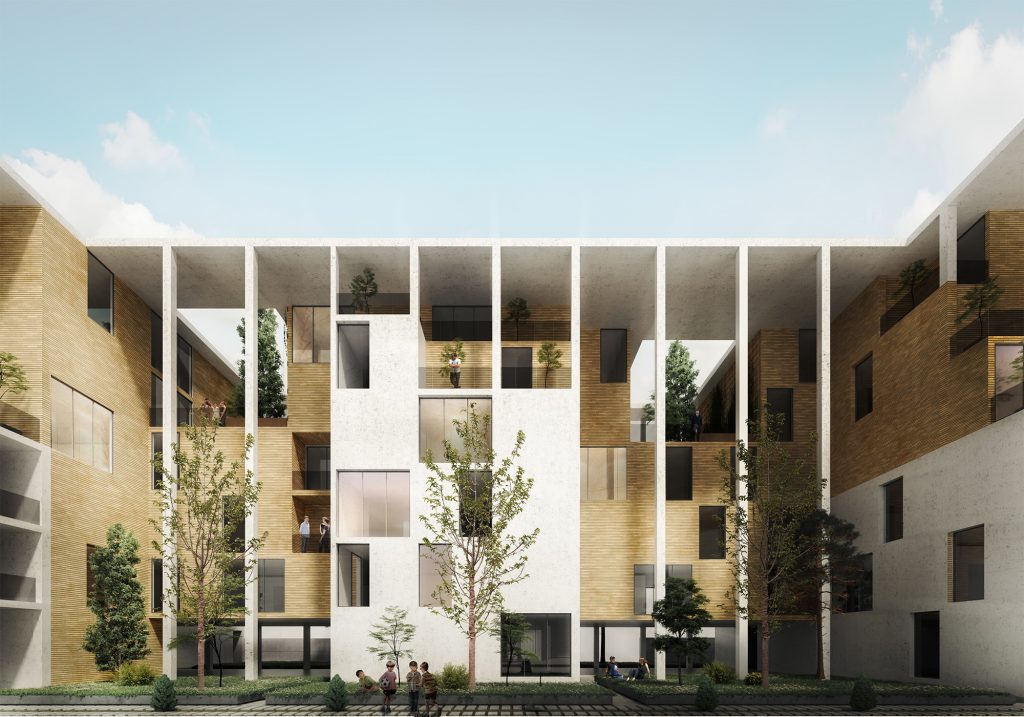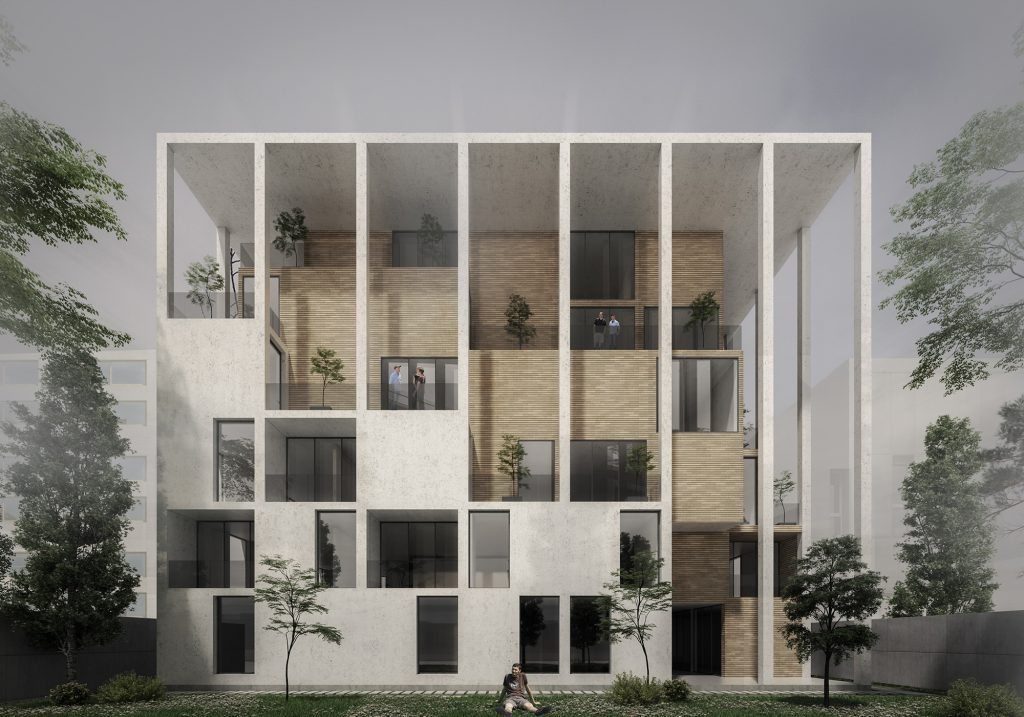 As a semi-open space, which has been one of the three main and continuous concepts of Iranian architecture since the Achaemenid period, the porch brings with it a variety of valuable experiences of space and nature and plays an important role in the home in terms of form and function. has it.
The use of a columned porch in this project will increase the interactions between residents by creating intermediate courtyards, balconies, and greenery on the floors, along with improving its climate by shading and the possibility of natural ventilation. In this project, the porch on a larger scale, as one of the most effective aesthetic elements of the urban facade, as well as the joint inside and outside the building, has a great impact on the urban landscape around it.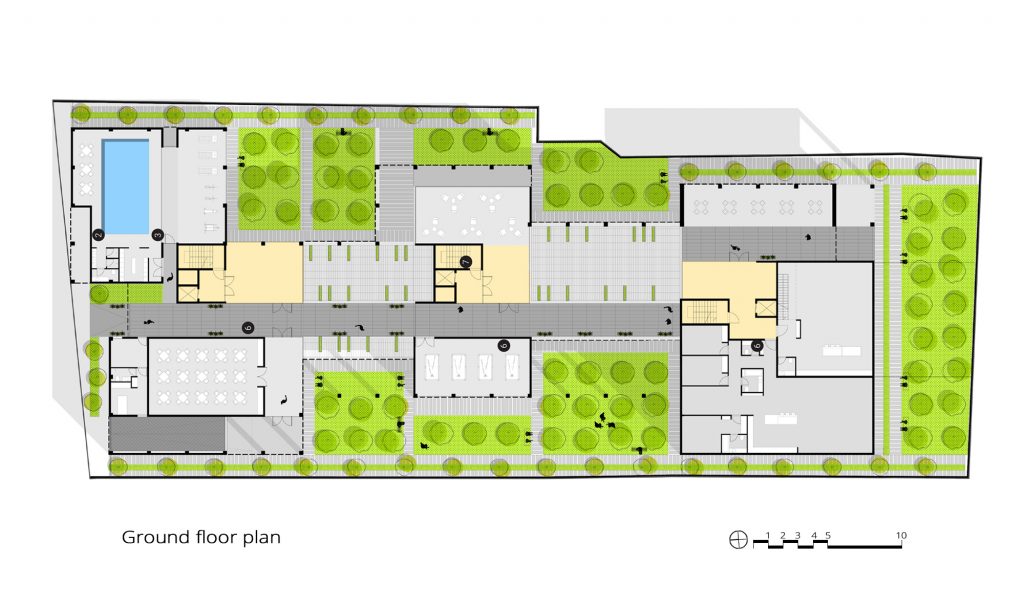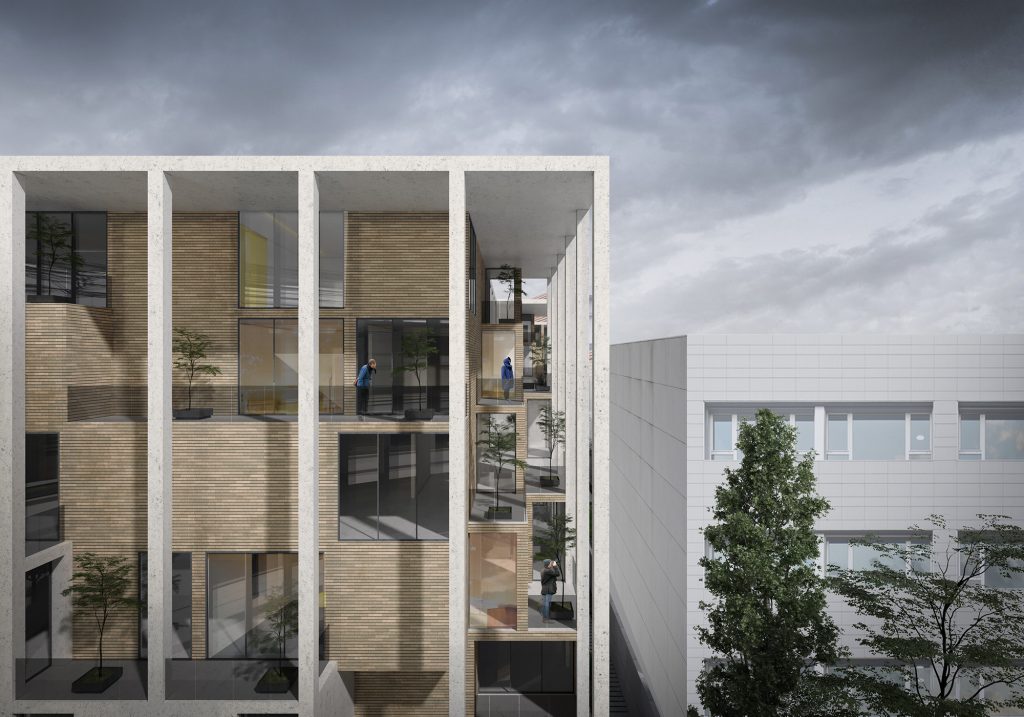 In spatial divisions, by transferring service uses such as office space, multi-purpose spaces, welfare and sports halls to the ground floor and transferring residential sections to higher floors, it somehow revives the spatial hierarchy used in the introverted architecture of hot and dry regions.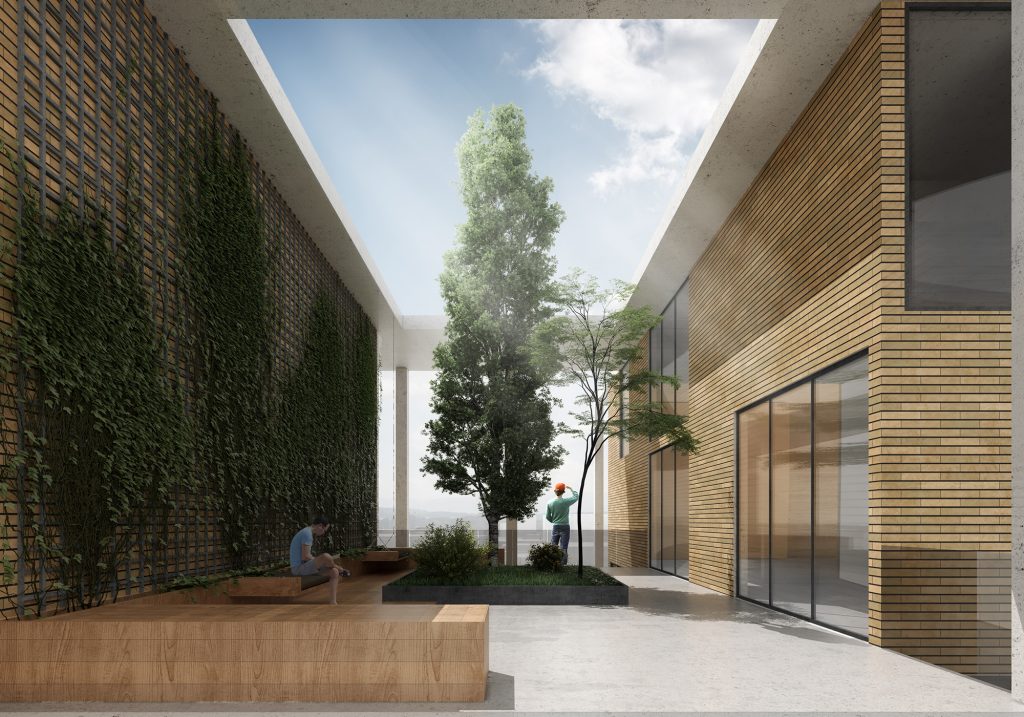 In order to reduce energy consumption and increase the thermal efficiency of the building, bricks have been used, which, in addition to creating continuity, also have a high thermal capacity. Also, the use of plants in the middle courtyards and balconies by increasing the humidity in the hot days of the year will create more moderate conditions in terms of temperature.