Moghadam
Technical Details
Location : Tehran, Iran
Area : 54.000 M2
Function : Residential, Commercial
Status : Concept
Principal Architect : Omid Shafieie
Project team : Ronak Namdari, Farhad Minae, Babak Behnava, Ali Mahmoudi asl, Tara Akbari nezhad, Milad Salehi, Shima Molavi, Gelare Taherian
Moghadam Commercial-Residential Complex with over 54,000 square meters, designed on 3 floors and located in Tehran. Given the project's location between the railway route and Shahid Cheraghi highway, it has been attempted to divide the site into several interconnected sections to form an integrated whole that is connected to its surroundings by pedestrian and curb routes.
Project volumes are also interconnected across floors, making it possible to create spaces for social events to take place in different areas, in addition to facilitating motor circulation throughout the project. On the ground floor level, buildings around the three central courtyards create green areas that can increase air humidity on dry summer days. Even in winters where Tehran's air experiences a higher percentage of pollution due to inversion, these green spaces can reduce the impact of pollutants.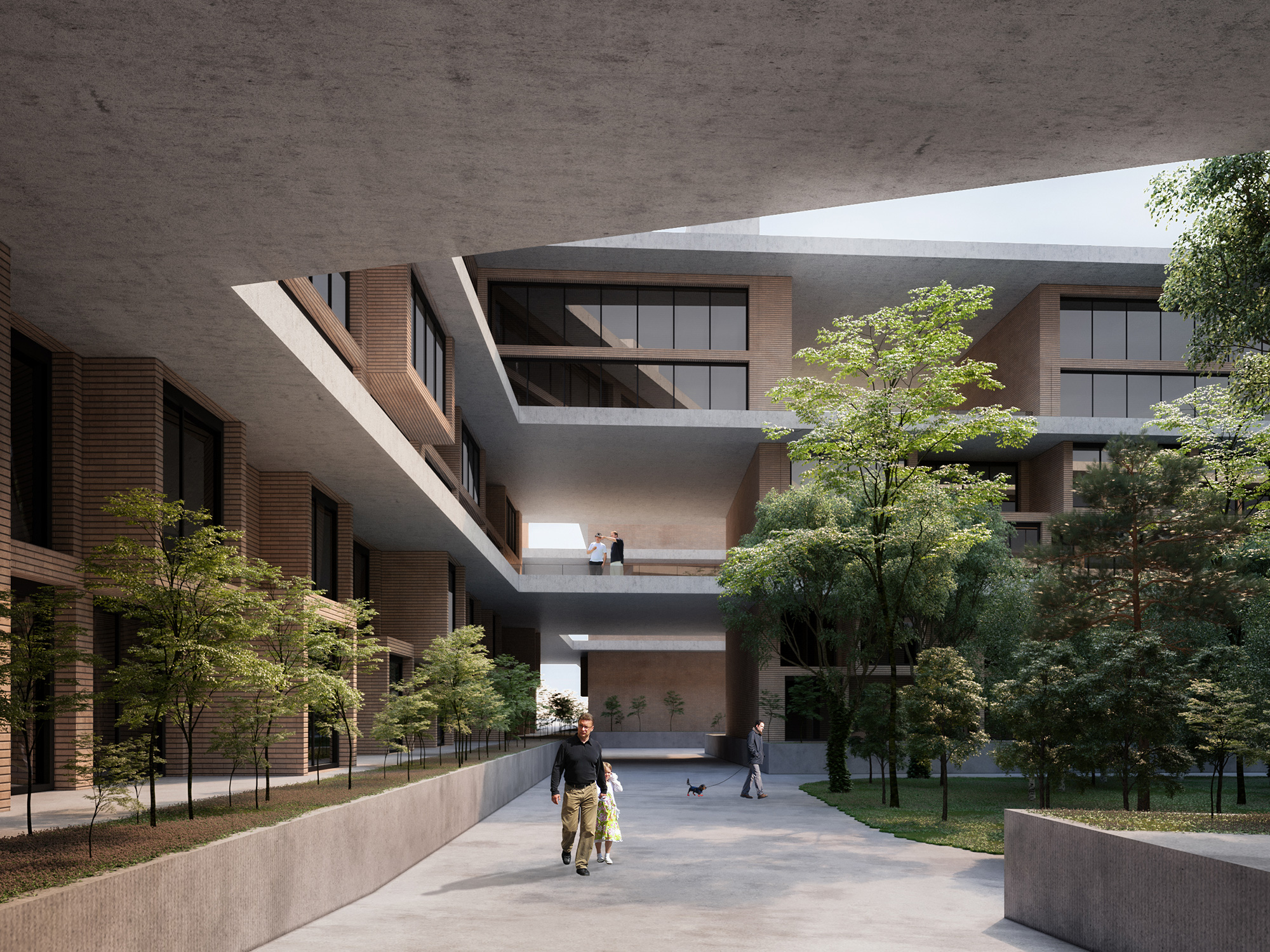 The spatial distribution of the floors is such that commercial-amenities are generally located on the ground floor, which increases the likelihood of the project interacting with the city and its residents. The residential areas, along with other uses such as kindergartens, public workspaces, and service areas, are designed in a variety of ways to meet the needs of the upper floors, in addition to gaining more privacy.
Using modular design to put residential units together allows for the production of a variety of studio, one-bedroom and two-bedroom units that have a direct impact on the efficiency of the project to attract users from different classes.
The design details of each unit are such that it is attempted to take into account the user's variety of tastes. Various furniture designs have been used for this purpose, which can be customized by the user.
Due to the location of the project in Tehran, the project landscapes used deciduous species to allow interaction with air temperature in terms of absorbing sunlight at different times of the year. In addition, dense tree plantings around the complex were used to reduce the amount of noise pollution caused by railroad activity and vehicle traffic on the highway.